Missionary Oblates of Mary Immaculate serving the people of Ukraine
UKRAINE: There are more than 30 Missionary Oblates of Mary Immaculate in the
invaded country now by the Russian army. After the fall of Communism, the Oblates
were among the first Catholic priests to enter the country rebuilding churches and
places of worship. They are engaged in social works to benefit poor people. OMI
missionaries are also in charge of the Chernobyl area parish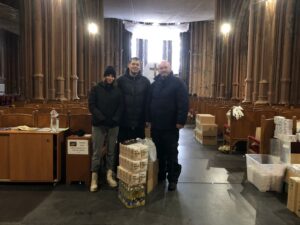 UKRAINE: Pavlo Vyshkovsky OMI in St. Nicholas Church in Kiev became a centre of
help for the population. In this photo from yesterday, March 8, medicines are delivered
to doctors in Chernobyl. Missionary Oblates of Mary Immaculate in Kiev, Tyvrov,
Czernichow, Poltava and other oblate houses stand by the people.
Fr. Vadim Dorosz, OMI
Emergency help organized by the Missionary Oblates in Poland
Poznań: oblacka pomoc dla Ukrainy. Busy z darami wyruszyły do Zahutynia
Odessa: Despite the war, the Church cares for the needy
Father Pavlo Vyshkovkyy brings us his experience in Ukraine, as Russia continues its
push to overtake the country. Don't miss out on the latest news, discussion and analysis
from a Catholic perspective.
Living Through the Ukraine War | EWTN News In Depth March 4, 2022 https://t.co/VezUOQ8fsz via @FacebookWatch

— OblateWorldMissions_MAMI_AssumptionCanada (@MissionProcure) March 7, 2022